This month, WiredScore's annual global team retreat was held at Woodloch Resort in the beautiful Poconos of Pennsylvania. Our 60+ strong team from four different countries (USA, France, Germany and the UK) were whisked away for three days of learning, strategy, cross-team collaboration, and let's not forget a whole heap of snowy fun! This retreat is such an important opportunity for everyone at WiredScore to get to know each other better and ensure that we are aligned as one global team. We are thrilled to share some highlights and three key takeaways from this incredibly successful team event: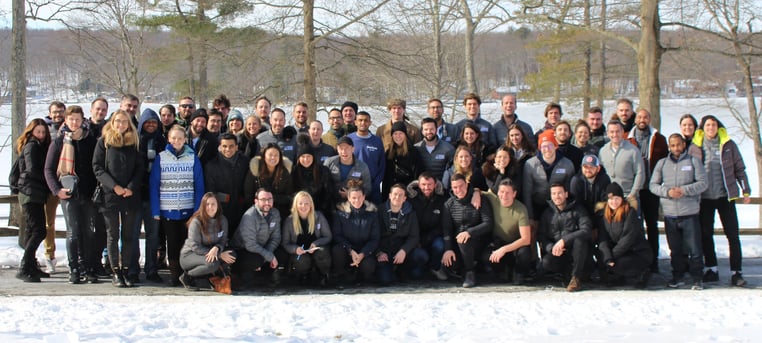 1. The outdoors is calling, and we must go!

Our 2019 team retreat was jam packed with strategy meetings, cross-functional sessions and educational presentations. Most importantly, it was a golden opportunity to celebrate our talented team, and how better to celebrate people than remove the parameters of the office walls and step outside into the fresh air?
Among the backdrop of a frozen lake, we enjoyed breakfasts with colleagues we'd never met before, stayed in chalets surrounded by woodland, and shared stories and passions in front of a campfire. We created an environment where people transform into more than a Slack notification or a face on a video call; in this environment, we were a group of friends. Through forming organic connections, it became exponentially easier to align business goals, visions and values spanning 4 countries and 65 people. It's incredible to watch people transform when you get rid of the desk for a few days!
The Woodloch resort was the perfect venue for what we were trying to achieve for the retreat. From spacious meeting space, to incredible views, to cozy lounge rooms and fireplaces there was ample space for the various sessions and activities we held. The staff were on hand at all hours and their hospitality truly made the experience what it was.

2. Cross-functional sessions

The retreat kicked off with our CEO and Founder, Arie Barendrecht, outlining the 2019 strategy and goals for the year. The whole team also benefited from employee-led sessions on our product roadmap, technical training, client evolution and more. In between the sessions we worked on department-specific goals such as marketing funnels, scorecards, finance processes and recruitment.


This year, based on feedback from our past retreats, we really focused on ensuring the team had ample time for cross-functional sessions. We see incredible value in seizing opportunities for collaboration, especially with people from different countries and business functions. The marketing team took time to "mind-map" with research & development, while the client services team brainstormed with operations. These opportunities proved to be invaluable for all of our teams to better understand what projects other functions in the business were taking on, the challenges they are facing, as well as lessons learnt. What we learnt from these cross-functional sessions is that collaboration truly enables new ways of thinking and helps to ameliorate stagnated processes. We saw in real time how much the team values new ideas and diverse opinions, as well as solving problems together. After all, it takes two flints to make a fire!

3. If it's not fun, you're not doing it right.

Our superstar retreat organisers made sure that for every hour spent working, we spent another enjoying all the resort had to offer! An array of activities were up for grabs including archery, painting, cocktail making, bowling, and ice skating to name but a few. One afternoon we followed our American counterpart's lead and roasted s'mores around a campfire (we still maintain British chocolate is better). For the evening there was an unforgettable 90's theme party where VIP guests such as Edward Scissorhands, Father Ted, Spice girls, Carrie Bradshaw and Oasis made an appearance. Stu Wilson, our Operations Director cleaned up at casino night with over $1m worth of casino chips at the end of the night, and a makeshift limbo line was created from some tied together tablecloths (#scrappy)! Having time purely designated for activities meant that work sessions were more productive, and the whole team was able to enjoy each other's company outside of our business as usual setting.



We left the retreat feeling revitalised and motivated to tackle our shared goals in the year ahead. The most important thing to remember when planning this type of company-wide retreat is that, above all, it's about the people. Reuniting people, celebrating people and collaborating with people. That's how we've arrived to where we are today, and we couldn't be more excited to see what 2019 brings for us.
WiredScore will be offering an incredible suite of professional development opportunities and benefits to our global team in 2019, and it's just one great reason to join our fast-growing team. Head over to our careers page to learn more about our open opportunities now!