WiredScore has seen the adoption of Wired Certification in Dublin grow faster than that of leading European cities including London, Paris and Berlin. Wired Certification provides tenants with an independent, trusted benchmark and the necessary insights for landlords and developers to improve and future-proof their buildings' digital connectivity standards.
Since July 2017 over 5 million sq ft of Dublin office space has been committed to Wired Certification, accounting for 15% of all commercial office stock in the city. By comparison, within the same time period, Wired Certified office space in London accounted for 8% of the city's overall commercial office stock.
The rate of penetration of Wired Certification in the Dublin commercial real estate market demonstrates that internet connectivity is of paramount concern for office landlords, developers and tenants. WiredScore is currently working in Dublin with 19 landlords, encompassing 55 buildings.
Notable buildings to have achieved Wired Certification include the Exo Building, set to be Dublin's highest office development, Spencer Place, which recently pre-let 500,000 sq ft of space to cloud computing company Salesforce, and Hibernia's One and Two Dockland Central which is occupied by HubSpot. In addition, LinkedIn announced its pre-let of IPUT's new 150,000 sq ft, Wired Certified Platinum development, One Wilton Park.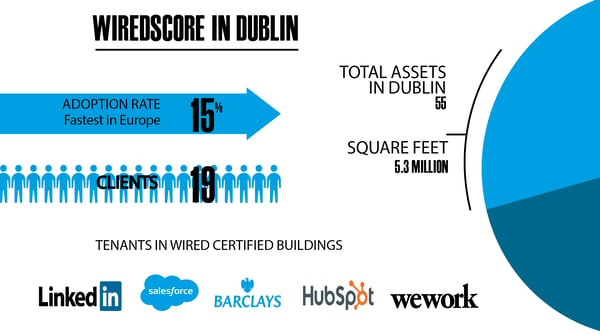 William Newton, President and EMEA MD at WiredScore commented:
"Against the backdrop of Dublin's rapid growth as it becomes a leading tech hub, we have seen widespread adoption of Wired Certification, faster than that of other European cities. Dublin continues to see forward thinking landlords placing an emphasis on providing superior connectivity and a robust digital infrastructure within their office buildings. As Dublin competes on a global stage, Wired Certification is ensuring that the city's commercial office space meets the increasing demands from international occupiers."
Dublin has become renowned for being a tech centre with TMT and creative businesses accounting for 38% of take-up in Q3 2018 according to global property adviser Knight Frank.
In addition to those landlords already mentioned WiredScore is also working with the likes of Blackstone, Hines, U+I, Castlepark, Clancourt, Green REIT, Irish Life and McGarrell Reilly Group.