I was delighted to speak on the connectivity panel at the 2017 Parliament & Internet Conference, which brings together leading figures from the Government, academia and industry to discuss important technology issues that shape legislative policy.
What was clear from this year's discussion is that the conversation around internet and connectivity has rapidly shifted over the past two years. Across the Government, the public sector and industry, there's a real pursuit to futureproof the UK's digital infrastructure to deliver premium connectivity to businesses and consumers alike.
Here are three things I learnt from the event:
The UK has higher expectations than the rest of Europe
During the panel discussion, Dana Tobak, Managing Director at Hyperoptic, highlighted she had witnessed an increased consumer demand for gigabit services in the UK. What's more, the UK differs from its neighbours on the continent in our attitude as "in other European countries, they are willing to pay 2,000 euros for a high speed service. In the UK, we expect it."
As the UK has the largest digital economy of any G20 nation, it is right that the UK businesses demand the internet provision they require to be competitive and profitable. As I pointed out, everyone needs to have a fabulous experience of the internet – and for businesses, this starts in the office.
While agreeing that FTTP is very exciting, Richard Allwood, Chief Strategy Officer at Openreach, stressed that the UK's expectations for full fibre roll out must be managed. After all, he pointed out, the 95 percent superfast broadband coverage target for 2017 is not for everyone. There is still plenty of work to be done.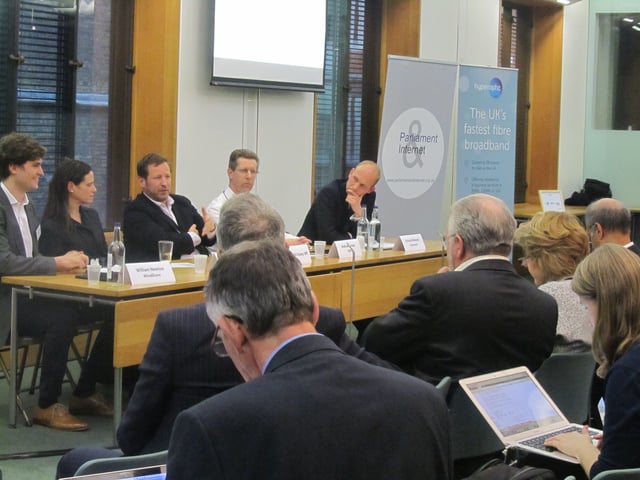 Image from 2017 Parliament & Internet Conference Connectivity Panel
Internet Service Providers alone cannot deliver on the UK's ambitious targets
While everyone would benefit from access to quality, resilient digital connectivity, it is sometimes difficult to foster the necessary collaboration between stakeholders in digital infrastructure in order to deliver this vital service.
I often find that many landlords struggle with how hard it is to work with to ISPs, while ISPs believe it is hard to work with landlords. When everyone has the same end goal of providing high speed, cost effective connectivity to businesses, we need to work together to deliver on our mutual ambition.
To ensure the entire country has access to fibre, it will need a number of different providers to deliver the appropriate service. As the Chair of the panel, former Digital Minister Ed Vaizey, pointed out: we can't expect a single company like Hyperoptic to provide coverage for the whole of the UK because, as a private company, it needs to deliver where the return on investment is.
Tobak agreed, saying that Hyperoptic isn't a rural expert and doesn't provide a solution for how to get fibre out to all areas. ISPs will need support from the Government, landlords, local authorities, and businesses to overcome challenges such as funding and securing access rights.
Other stakeholders, such as local councils, can help with full-fibre roll out
One of the most difficult elements of improving the UK's digital infrastructure is ensuring that the roll out of full fibre is successful. While it has been established that Government funding and industry collaboration are two approaches which will help with fibre roll out, little had been said about the role local councils could play in laying the foundations for improved connectivity.
Anthony Clover, Chair of the Internet Services Providers' Association (ISPA), highlighted a simple change in how councils approach infrastructure projects that could facilitate greater and faster improvements to the UK's digital infrastructure.
For example, when local councils build a cycle lane, they could also put in communication ducts at the same time.The incremental cost of putting them in at that point, allowing for fibre to then be put in later when there is demand, would be cheaper and less disruptive than approaching it as two separate projects.
Conclusion
When asked at the end of the session about his opinion on his successor as Digital Minister, Matt Hancock, Vaizey stated that having a new minister "hasn't exposed some new silver bullet, revolutionary broadband for the UK".
And beyond Government, that's certainly true of the industry and our pursuit to deliver premium connectivity to the entire UK too. There is no silver bullet. It will take collaboration across a vast number of organisations, as well a great deal of patience, hard work, and planning to make it a reality.
What's more, once we have delivered full fibre roll out for the UK, we will have to tackle the next challenge facing the UK's digital infrastructure. Dana Tobak hinted that the next phase of fibre roll out might involve establishing diversity for fibre connections, because if we are striving for true connectivity excellence, there should be more than one option for fibre across all markets. We must keep moving the goalposts to make sure the UK remains a world leader in digital connectivity.