Contributing towards Birmingham's regeneration, Three Snowhill - the largest ever speculative city centre office scheme developed in the UK outside London - has achieved a Wired Certified Platinum rating, demonstrating the building's superior digital capabilities.
A gateway site to the Colmore business district in Birmingham City Centre, Three Snowhill will provide 420,000 sq ft of office space designed to meet all of the connectivity requirements and anticipations of world-class occupiers.
An occupier-led approach
"Our focus and guiding principle throughout the design process and delivery of the Snowhill Estate has always been to meet the needs of the occupiers. Our experience is that occupiers are increasingly conscious that digital connectivity is both core to their functions and as important as any of the traditional statutory services – but also one which is rapidly evolving.
From the experience of delivering one million square feet of modern commercial space, we've learnt just how critical it is to make sure the building's infrastructure enables and facilitates the ever evolving requirements of modern businesses and particularly their digital needs and connectivity. That's what we have designed at Three Snowhill. We've been able to validate and finesse the core design to the highest digital standards through the Wired Certification process and create what I think is the most future proof building in Birmingham."
— RICHARD PROBERT,
Project Director for Snowhill, Ballymore Group
To meet their future tenants' needs, Ballymore has designed a building with best-in-class telecoms infrastructure with no single point of failure in the data communication supply to and throughout the building allowing occupiers to connect to a minimum of two independent communication channels, and the provision for wireless communication and antenna base station equipment on the roof as an alternative to the fibre equipment.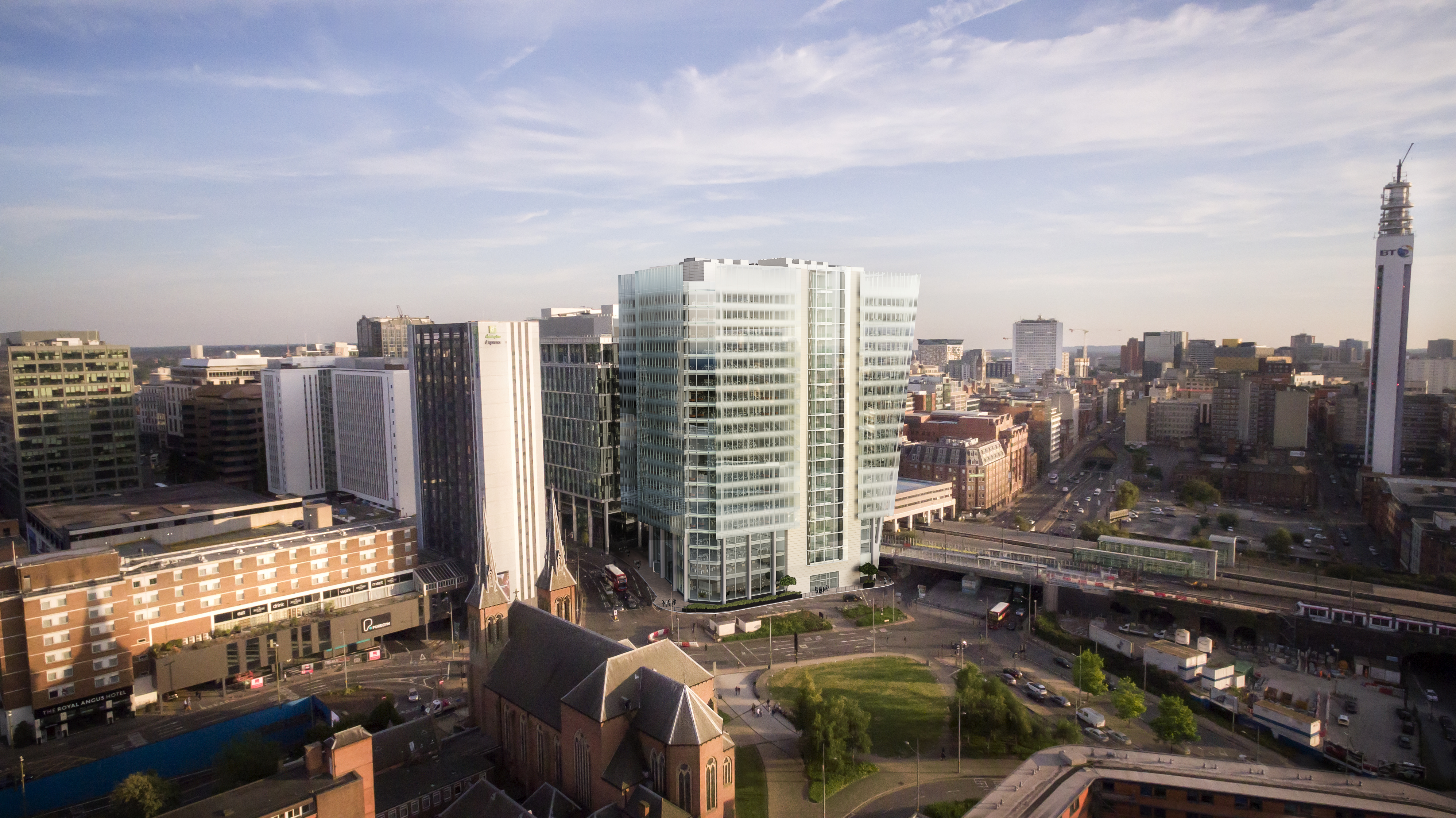 Leveraging WiredScore's experience for best-in-class design
"WiredScore's widespread international experience and certification scoring metrics provided a valuable opportunity for Ballymore to finesse their solutions and meet the best practice standards. One of the lessons learnt was that there may be the need in future to be able to provide heating, cooling, and fire protection to even landlord central equipment rooms. Therefore during the Wired Certification process, Ballymore upgraded the design to allow for those services if they become a tenant demand."
— PHILLIP BEALE,
Director, Lead ICT Infrastructure Consultant
"WiredScore demonstrated that the balance of commitment from the landlord has changed and the physical space is only part of the issue. We now need to address services, public realm, wellness, and provide a place in which the occupier's staff can work effectively in. Digital connectivity has evolved so rapidly, it could have been easy to miss the change in requirements necessary to meet the needs of today's tenants."
— RICHARD PROBERT,
Project Director for Snowhill, Ballymore Group
Key information
Developer: Ballymore
Investor: M&G Real Estate
Engineer: Cundall
Wired Certified Rating: Platinum
Location: Birmingham, UK
Completion date: Summer 2019