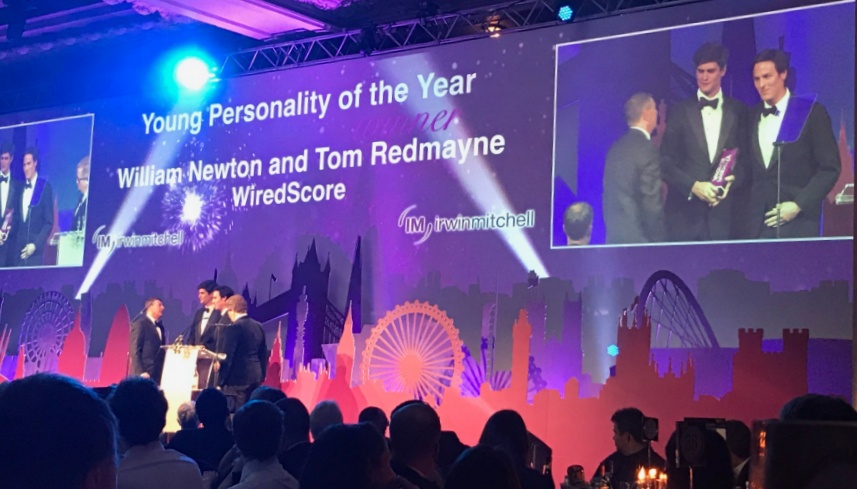 We're delighted to announce that our EMEA Director William Newton and our Director of Business Development, UK & Ireland Tom Redmayne were voted as Young Personalities of the Year at the prestigious Property Week awards.

Sponsored by Irwin Mitchell, the Young Personalities of the Year award is presented to "stars of the future", rewarding individuals in the property world who demonstrate entrepreneurialism, tenacity and vision to steer the industry in years to come. William and Tom's win proves that WiredScore have successfully repositioned the wider industry debate around connectivity since the launch of Wired Certification in the UK in 2015.

From a traditional property background, Tom began his career as a surveyor at Cushman & Wakefield in 2011. It was here that his keen interest in technology was first sparked, through working with Juliette Morgan, the former head of property for Tech City. Conversely, William began his career as a Business Analyst at McKinsey & Company, before moving into the public sector to work as a senior policy advisor in both the Cabinet Office and 10 Downing Street.

Combining their different experiences has enabled William and Tom to offer a solution for the existing challenges that the property industry face in benchmarking and promoting the connectivity capacity of buildings. In commending their efforts to innovate commercial real estate, the judges described WiredScore as "really of the moment" and "fresh, new and really relevant".

Also at the awards ceremony, WiredScore was shortlisted for 'Proptech Company of the Year'. While the well-deserved award went to VTS, fellow Proptech entrepreneurs and friends in the industry, the award sponsor KPMG Tech Growth gave a special mention to WiredScore. Complimenting WiredScore as a "great company", WiredScore was recognised a highly commended Proptech company.

This year's awards was one of the most exciting events in property yet, with Proptech growing in prominence and offering new, dynamic and interesting companies to watch in the years to come.

You can access the full list of Property Awards 2017 here.