In honour of international women's day three of our inspirational WiredScore women are taking over the blog for a day!
Cassie Wheeldon, Ellena Duffy and Charlotte Meara tell us about their roles at WiredScore, career highlights, thoughts on gender equality, tips for professional women starting out, and the women who in turn inspired them (fond grandmother stories impending).
Introducing Cassandra Wheeldon our director of partnerships. Cassie joined in April 2016 and looks after our most important clients. She has been known to kill a panel too. MY GRANDMOTHER...
My grandmother grew up in a small village in post-war Germany. At the time, school for girls finished at 14 and their only real career option was to become a nurse. My grandmother faints at the sight of blood, so she didn't find this trajectory particularly appealing. A year later, an opportunity for a coveted Green Card fell into her lap. She left everything she knew in her village and took to America to fulfill her dream of continuing her education. She spent the summer teaching herself English so that she could enroll in American high school, and eventually went on to get a Masters degree in social work. She worked as a case worker for the department of Welfare in Pennsylvania before being promoted to head up income maintenance for the state. Her determination and tenacity to get what she wanted out of life - even when it meant stepping outside her comfort zone - has always served as an influence in my own career and life choices. She emulates a legacy that extends far beyond our core family, and is often my go to on everything from financial to party planning.
Fun Facts
The only subject she ever failed was gym: she couldn't learn how to swim due to being 9 months pregnant with my mom.

She once spoke alongside President Bill Clinton during his effort to promote a national health care programme, where she advocated for low income families' right to access medical care.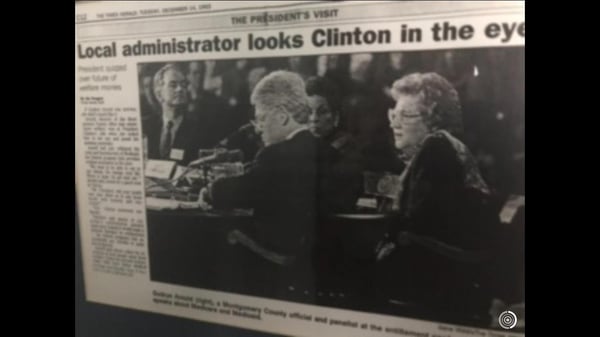 WHO AM I?
I grew up in Philadelphia, PA and I feel a deep connection to my hometown and my family that lives there - I love going home to America whenever I get the chance. My family is very big and diverse: my mom is half Indian, half German, first generation American and my dad is born and bred British from the villages of Derbyshire. This made for a pretty interesting guest list at my wedding!
When I was 19 I decided that I wanted to move to London forever: I had visited England every summer growing up, but after my first year of university I packed my bags and moved in with my cousin for the summer. She lived in a 1 bedroom basement flat in Victoria, and I moved into her uninsulated, 6x6' coal hole! I interned by day at Sotheby's and by night made ends meet as a waitress in a Dim Sum restaurant. I was SW1's worst waitress - I once spilled TWO kir royales over a woman wearing all white. To this day if I am walking down that street, I cross to the other side of the road because I am still so humiliated.
If I could eat one thing for the rest of my life, it would be pizza. I love everything about it, in every variation and form. I'm very particular about my order (extra sauce, with more on the side). My current favourite hot spots are Pizza East in the Tea Building, Radio Alice in Clapham and Brava Regazzi which is in my new hood in Streatham.
MY ROLE AT WIREDSCORE
I joined WiredScore in 2016, originally as a partnerships manager, to ensure landlords received their buildings' Wired Certifications. That very quickly evolved with the company's growth into a fully developed department that I now run as the director of the team. Our mission is to educate landlords and their buildings around the importance of connectivity and meet the demand of connectivity transparency across the property industry. Over the last three year I've been really lucky to be recognised in the industry; in 2017 I was shortlisted for WATC's Rising Star Award and more recently was featured alongside some really impressive women in Bisnow's Future Influencer list in 2019. My proudest accomplishment was speaking on my first panel in 2018 at our Birmingham Launch. I knew it was something I wanted to but was terrified to do it for the first time. It was incredible how the team rallied around me to help me prepare and make sure I was successful, and the amazing feeling once I stepped off stage.
My favourite thing about working at WiredScore is our team - it's been amazing to see so much growth over the last three years, and especially the fact that everyone is driven towards a common goal of making success and delivering the best product and learnings to our clients. I enjoy coming into work every day and spending time with my colleagues as well as hanging out outside the office! As a group we love to push our events to new levels, whether it be axe throwing, tough mudders, and even once circus school.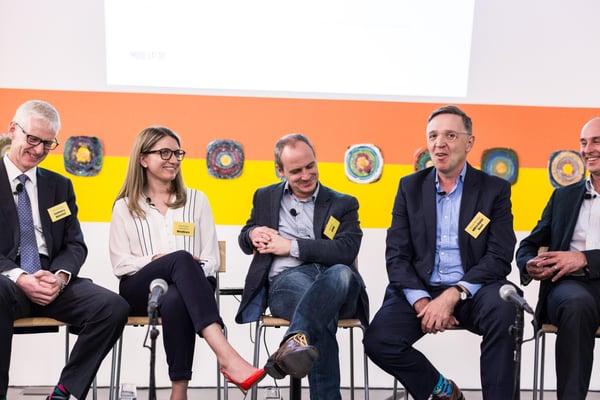 WHAT WOULD I DO TO ACCELERATE GENDER EQUALITY?
Success is result of opportunity, taking the right one and leveraging it. Seizing opportunity is down to the individual, but it's crucial that they work in a supportive environment. I think that quality management and leadership are fundamental in creating and promoting a work environment that makes success and career growth possible.
My advice to a woman would be to not be afraid to take a chance on doing something different in your career (like for instance, joining a company that rates digital connectivity in buildings, knowing absolutely nothing about digital connectivity), seize the opportunity when you see it and give it everything you've got.
WANT TO JOIN?
WiredScore will be offering an incredible suite of professional development opportunities and benefits to our global team in 2019, and it's just one great reason to join our fast-growing team. Head over to our careers page to learn more about our open opportunities now!