Speaking of the government's desire for the UK to be a "world leader in 5G", Chancellor Philip Hammond allocated £740 million to be spent on trials of the technology in his 2016 Autumn Statement. Thanks to trials and testbeds now sweeping the country, 5G is edging ever closer to a fully realised service, and soon we will have super-fast mobile streaming at our fingertips.
Download speeds
It is tricky to say exactly how fast 5G will be as it won't be available for commercial use until at least 2020. However, The Next Generation Mobile Networks alliance states that to be considered 5G a service must offer data rates of tens of megabits per second to tens of thousands of users simultaneously. For an office floor with tens of workers 5G should offer a minimum of 1Gbps. Ongoing tests suggest that 5G will reach speeds up to 1000 times faster than 4G, looking to exceed 10Gbps. To put this into perspective, you could download an HD film in seconds.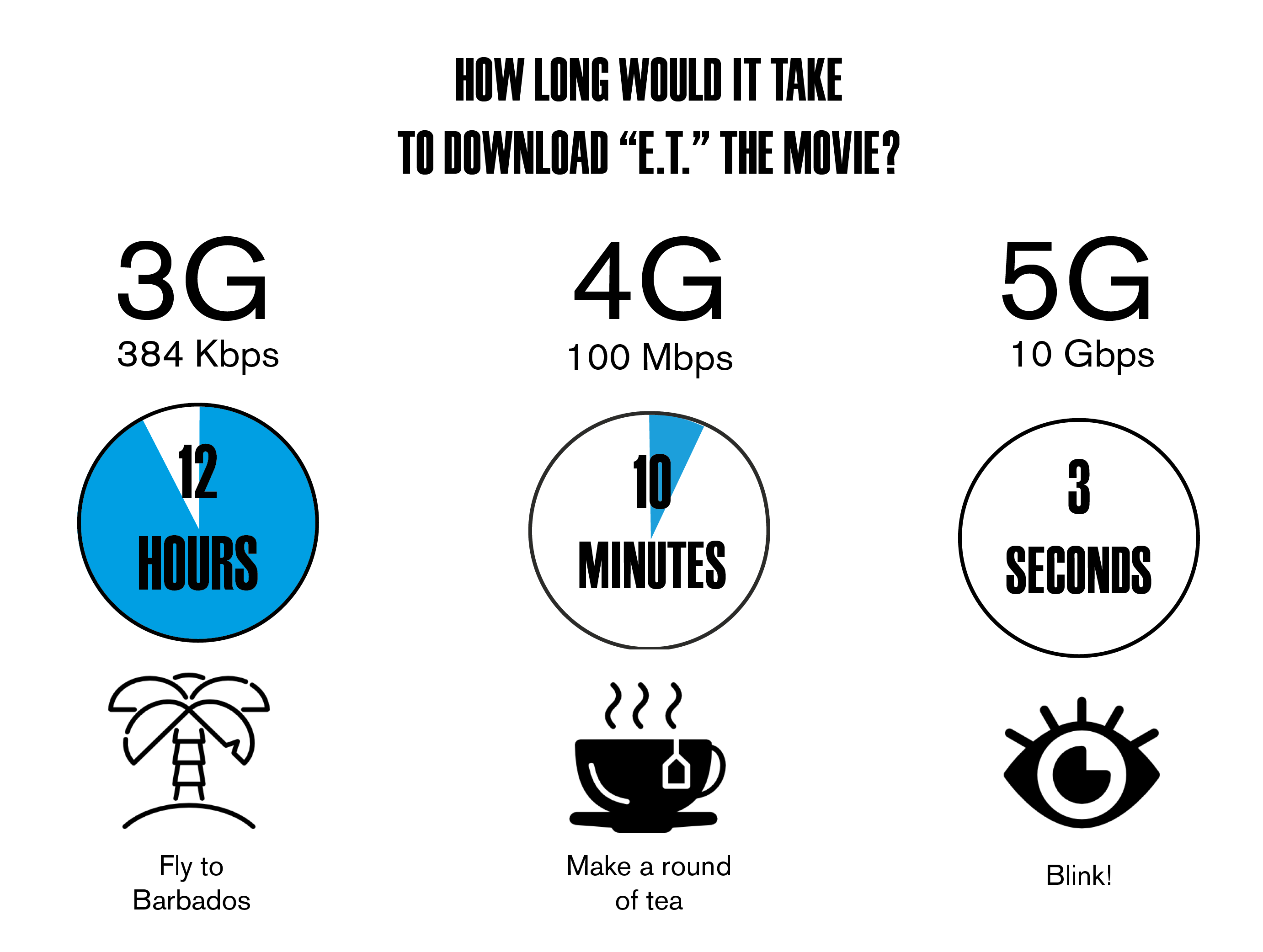 Following is a breakdown of the UK's current 5G trials & testbeds.
EE in London
EE is currently running two 5G trials. In October this year they went live to the public with their trial of nine 5G sites covering the busiest parts of East London. EE's 5G trial focuses on learnings around site signal strengthening and planning permission. As the trial develops they will assess the customer experience for the new 5G spectrum. The second site at which they are currently trialling live 5G is Canary Wharf, an area which hosts around 150,000 people every day, making it one of the most popular places in the country. They are specifically testing the performance, speed, and overall coverage of the 5G spectrum in this area.
EE recently confirmed the 16 cities where they will launch 5G in 2019. London, Cardiff, Belfast, Edinburgh, Birmingham and Manchester will be among the first to benefit from EE's roll out as they focus on busy city-centre areas, such as Hyde Park in London, the Welsh Assembly, Belfast City Airport, Edinburgh Waverley train station, Birmingham's Bullring and the Manchester Arena.
Vodafone in Greater Manchester
Vodafone announced by the end of 2018 seven cities across the UK – Birmingham, Bristol, Cardiff, Glasgow, Liverpool, London and Manchester – will have a 5G mobile network in place for testing. The roll out has begun with Greater Manchester, where a site at Old Trafford football stadium is now streaming live mobile data traffic to and from the internet exclusively over 5G. This trial is unique as it enables Vodafone to test the technology in multiple locations with end-to-end 5G-specific equipment, until now companies had only tested the technology in a single location and with parts of the 4G network.
Vodafone's trial will provide coverage to MediaCityUK and the surrounding area, the new site in Salford is an important step in connecting businesses and consumers with 5G technology. The 5G innovation centre in MediaCityUK's Landing innovation hub will be equipped with the latest digital technology, including 5G wireless routers, gigabit-capable optical-fibre links, and Internet of Things (IoT) services. This will enable local technology companies to have the opportunity to experience the faster data speeds at the 'Future Ready' innovation centre when it opens in Spring 2019.
Government
Not to be out done by the major networks, the UK government has been making headway with the 5G Testbeds and Trials Programme (5GTT), which aims to ensure that the majority of the UK has 5G coverage by 2027.
As part of the 5GTT programme the UK Government awarded a contract of £25 million to six high tech organisations for the testing of 5G applications and hardware. The projects will focus on smart farming, health care in the home via the Internet of Things (IoT), cyber security, increasing manufacturing productivity, enhanced visual experiences for tourists, patient care, and self-driving cars. Two of the projects, 5G Rural Integrated Testbed (5GRIT) and 5G RuralFirst, aim to empower the UK's disconnected, remote, and rural communities. These trials will primarily be based north of Scotland on the Orkney islands, Somerset and Shropshire's farmlands, and the Northern counties.
West Midlands
In August this year the government announced that the West Midlands had been selected to become the UK's first multi-city 5G test bed. Birmingham, Coventry and Wolverhampton will pave the way for the future rollout of 5G across the UK. The region will be the first in the UK ready to trial new 5G applications and services at scale. 5G trials in the West Midlands have a particular focus on improving communication methods for hospitals and the emergency services, live streaming CCTV footage on public transport, and autonomous vehicles. The trials are being run by the Department for Digital, Culture, Media and Sport (DCMS) and the West Midlands Combined Authorities. At WiredScore's 2018 Birmingham launch the Chair of WMCA digital board, Dave Maclean, said "The UK government is putting £75m into building 5G prototype platforms in the Midlands because the benefits are so huge that we want them now - gigabit level, ultra reliable, totally ubiquitous connection with almost infinite loading capacity."
Stay ready
For the implementation of 5G to be successful, it's important that the UK government collaborate with key industry players and ensure that any working strategy is ultimately for the good of the country. The independent trials and funding should result in a streamlined 5G rollout to make the UK a world leader in 5G.
However, ensuring the UK is 5G ready doesn't stop at the doorstep. Research from Aruba HPE found that 60 percent of employees link mobile technology with the ability to be productive while at work, so good signal will be a minimum for digitally-minded businesses in their offices.
And with 5G set to further intensify indoor mobile coverage and capacity challenges, commercial landlords and developers need to start planning now to ensure that their tenants' signal doesn't suffer in their office. Simply put all the amazing capabilities that 5G could offer could be completely wiped out if landlord's aren't proactive about how the 5G signal will be propagated through their property.
Commercial landlords and building managers should be looking to understand the coverage capacity of their buildings, and start taking preparatory steps to accommodate in building mobile solutions as the 5G network roll out occurs. With the necessary connectivity infrastructure in place tenants can enjoy a bright and prosperous 5G future.