It's official, we've hit a new global WiredScore record with 500 M sq ft of office space committed to Wired Certification. In celebration, we are looking back over the past five years at some of the key milestones that got us to the half billion mark.
Our story began in 2013, when a few of New York's leading property experts recognised a lack of transparency in office building connectivity. There was no official measure for digital infrastructure and the property industry had no language to discuss it. In October 2015, after successful national expansion across the US, WiredScore won a tender to be the official Mayor of London's Digital Connectivity Rating Scheme.
In 2016 UK regional expansion began in Manchester with 1.4 M sq ft and support from Sir Howard Bernstein, Chief Executive of Manchester City Council. In 2017 we landed in Ireland with 2.9 M sq ft of office space being Wired Certified in Dublin. In 2018 WiredScore arrived in Scotland with 1.3 M sq ft, closely followed by a Birmingham launch with 2.4 M sq ft.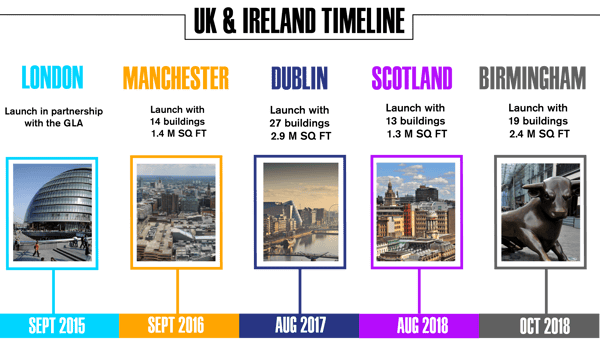 Sq ft evolution in UK
In the first three months of arriving in the UK four million sq ft of office space had committed to Wired Certification. By the end of 2017, after a string of successful regional launches, 40 M sq ft was officially registered for Wired Certification. Today the UK sits at 68 M sq ft of Wired Certified registered office space.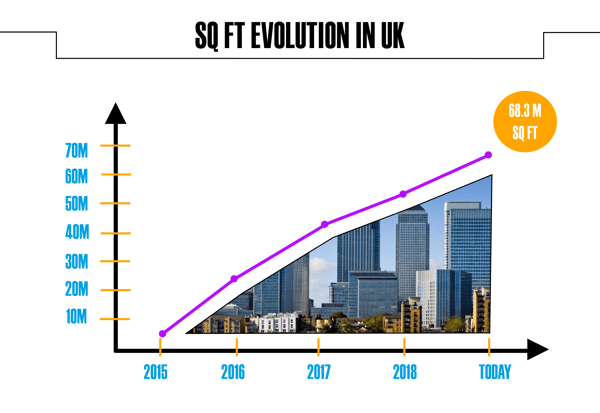 Client evolution in UK
We began in the UK in partnership with a group of 12 owners and developers who anticipated a shift in the market, within a year we were working with nearly six times as many clients. Today we are immensely proud to say that we currently work with nearly 200 landlords who prioritize connectivity by placing it at the forefront of their portfolio strategy. Derwent London, British Land, Blackstone, Workspace, and Schroders combined make up more than 12 M sq ft of Wired Certified office space. Impressively, Workspace have signed up 80% of their portfolio for Wired Certification.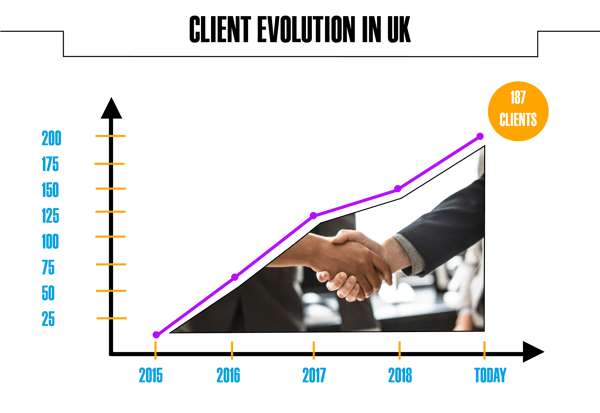 Global milestones
Within WiredScore's first year, 13 M sq ft had been certified across New York City including the Empire State Building, one of the most iconic and recognisable skyscrapers in the world. Five years later, we've expanded into six international markets and launched over 20 flagship cities.

In 2017 Wired Certification spread globally into Germany with the Sprinkenhof Building, France launched in Paris with four M sq ft and shortly after The Tours Duo in Paris became the 1,000th building to be Wired Certified. In 2017 we arrived in Canada with 81 Bay Street. 2018 was one of our biggest years with nine consecutive launches in Atlanta, Birmingham, Chicago, Cologne, Dallas, Frankfurt, Glasgow, Hamburg, and Marseille.
To date we've certified 1800+ buildings, and work with 500+ clients in more than 160 cities When we consider where WiredScore began, a two person strong team in 2013, these numbers are significant. But ultimately what we do is more than the square feet covered and buildings amassed. The technology we champion and buildings that we work with have everything to do with improving human experiences. Wired Certification has enabled over five million people to benefit from better connected buildings. As the world becomes smarter we make it our mission everyday to become the navigators of in-building technology and innovation. We do this with a team who understand resolutely how connectivity is more than just internet speed but the way we work, live, and play.
As we look back over the past five years, we would like to thank our clients and partners for their unwavering support, without which we wouldn't have these incredible milestones to celebrate.