For over 25 years, National Development has been one of the top real estate development and property management firms in Massachusetts. As an early adopter of Wired Certification in the Greater Boston Area, National Development addressed a growing challenge for today's CRE tenants: reliable, high-speed Internet connectivity.
National Development has recently achieved Wired Certification for over 3M sq ft of commercial real estate in Boston. The 34 Wired Certified buildings – located in Boston, Bedford, Burlington, Charlestown, Foxborough, Framingham, Medford, Woburn, Westborough, and Westwood – are among the region's most desirable office spaces, including The District Burlington, Unicorn Park, and Constitution Center.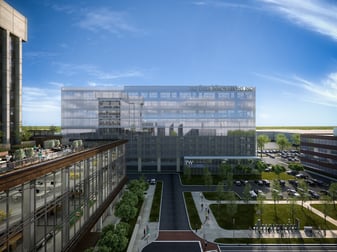 "Connectivity is vital to our tenant's success and we consistently field questions about the services our buildings can provide," said Leah Harsfield, Vice President of Asset Management at National Development. "Before getting our buildings Wired Certified, those questions really bogged down the process. Now that we have Wired Certified over 30 buildings, we have expert insight into our building's connectivity that we can provide to prospective tenants; this saves us time and allows National Development to focus on providing the best tenant experience possible."
Strong connectivity has never been more important to commercial tenants than it is today and demand for well-connected offices is only growing as the Boston tech community continues to thrive. Beyond the tech sector, tenants in finance, consulting, and other industries are more reliant on reliable, high-speed internet than ever before. By certifying over 30 buildings in the Greater Boston Area, National Development has committed to providing all tenants, from the CBD to suburban hubs, with the resilient connectivity businesses need for success.
To achieve Wired Certification, properties must meet rigorous standards developed in conjunction with the top minds in the tech and commercial real estate industries. These standards include the number and quality of Internet service providers, bandwidth capabilities, and the reliability of connections based on the building's infrastructure.