The Empire State Building -yes, that Empire State Building in New York City- had something to say. The only problem was it couldn't quite find the words to say it.
The Empire State Building has been standing since 1931, but didn't want to be seen as outdated by new or existing tenants. Sure, the iconic structure graces movie scenes, incredible New York City skyline photos and is synonymous with famous architecture, but none of that was going to help attract tech-forward companies that needed state-of-the-art connectivity.
Enter WiredScore and Wired Certification.
Even at nearly 90 years old, the Empire State Building received a Platinum Certification -the best designation possible- after an audit from WiredScore's expert engineers.
The score validated landlord claims and gave the Empire State Building a "voice" to say that you could teach an old building new tricks. Today, it hosts tenants such as LinkedIn, Expedia Group and multinational cybersecurity company Palo Alto Networks, that may not match the building's multi-generational past, but trust that it will satisfy their modern tech needs.
Landlords with older buildings must understand that while those aging assets are more at-risk for obsolescence, they are in favorable position to use WiredScore's Wired Certification most effectively.
Wired Certification is a way to understand older buildings' digital capabilities and how they can be improved to retain existing tenants and attract new ones.
Here are three reasons why older buildings are ideal candidates to receive a WiredScore audit and potential Wired Certification.
1. Older buildings face a bigger risk of obsolescence, impacting their ability to attract tenants
As previously noted, the age of a building does not automatically lower its Wired Certification score based on connectivity and tech-preparedness. But landlords with older buildings need to keep in mind that obsolescence poses a bigger risk to those assets.
Obsolescence is the process of becoming obsolete or outdated. In commercial real estate, digital connectivity plays a key role in ensuring that a building has the long-term ability to satisfy or exceed tenant needs and remain competitive in the marketplace.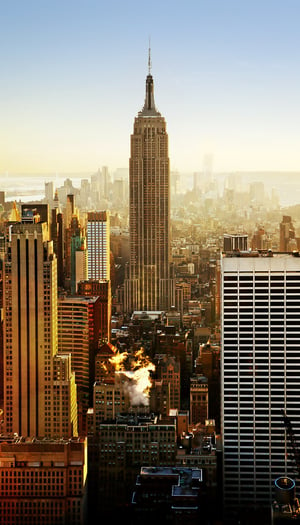 When somebody says "smart building" or "cutting-edge office space" they are probably envisioning a shimmering glass tower with sharp edges and a construction date within the last 10 years. Whether fairly or unfairly, the beautiful aged buildings of yesteryear do not communicate the same tech-forward capabilities.
A Wired Certification can be used in marketing materials, as well as a plaque on the building's entrance or lobby, to communicate that it is thriving in today's fast-paced world of technology.
In addition to fighting obsolescence on the marketing front, a Wired Certification and its preceding audit can identify areas within digital connectivity that play a key role in future-preparedness. Landlords and tenants want the peace of mind that commercial buildings will not just satisfy internet speed and capacity needs today, but 10 years from now as well.
Even if WiredScore engineers find that an older building cannot satisfy this at the time of its audit, they will guide a landlord to the best path to improve its digital infrastructure.
2. WiredScore helps owners be proactive in making the right upgrades
Even though a building will physically remain at the same address, the world around it will continue to move.
The most forward-thinking landlords are being proactive rather than reactive in identifying what's wrong with their older buildings and how to put improvements in place.
These landlords recognize that their aged assets have to be nimble, prepared for digital change, like 5G, not when a tenant first asks for it, but before.
Click here to schedule a consult
Imagine a tech prospective tenant or their broker on a tour of a building. One of their big asks -a "must," in fact- is access to fiber optic cable. If the landlord side of the equation comes back with "oh, well we're planning on having that installed by a internet service provider in the near-future," the response is not going to be good enough. The most sophisticated tenants are not looking for spaces that will be ready for the latest technology and connectivity, they want it already installed, tested and perhaps in-use by other tenants in the building.
The same goes for those existing tenants. A landlord's job is not finished when a building is leased. While a building may be old, that does not mean that tenants' expectations remain stagnant. Those companies already in the building are looking at the newest technology in commercial real estate, asking themselves if that's available in their current building, and if the answer is no, they will likely look for a new destination that does.
Proactive landlords are viewing their buildings as computers with roofs on them that need updating. WiredScore is the tool that can help even older buildings prepare for the future of tenant requirements.
3. It is less clear in older buildings what its digital capabilities are
The construction crews working around the clock to complete the Empire State Building were not worried about internet connectivity.
We'll give them a pass for obvious reasons.
But this scenario does bring up the valid concern that an older building's digital infrastructure is harder to decipher because it was not built with tech-readiness in-mind.
WiredScore can shine a light on a building's digital capabilities regardless of its age. It's our duty to look at in-building technology and parter with clients to provide best-in-class tenant experience. This means ensuring landlord dollars are spent on long-term solutions, tailored to fit each specific property.