As the building industry changes, architects, engineers, and developers must look forward and plan for the impact of workplace trends and disruptive technology on the commercial real estate industry. So how do you design a building for the future? Our advice: integrate IT services and connectivity infrastructure in the planning process for all commercial developments and redevelopments.
To ensure that buildings under construction today meet the needs of tomorrow's tenants, Cosentini designs flexible systems with future technologies in mind. Cosentini's IT group designs integrated building management systems that use Internet of Things (IoT) technology to monitor the building environment and the behavior of inhabitants. These 'smart buildings' respond to occupants' needs and improve tenant experience, but without wireless connectivity and a quality telecom infrastructure in place, this technology cannot be fully integrated into building systems.
With the recent publication of Wired Certification Guidelines for Commercial Developments and Redevelopments, WiredScore is shining a light on the elements of telecommunications design that keep today's business tenants online. The first and only set of guidelines dedicated to improving the connectivity design process, this free resource outlines Wired Certification criteria and best practices that should be incorporated into building design to meet the technology needs and expectations of future tenants. Cosentini and other leading experts in the commercial real estate and telecommunications industries including Rudin Management and Google Fiber contributed to the development of Wired Certification Guidelines as thought leaders.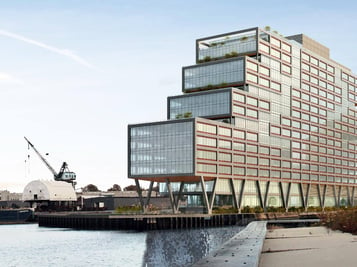 Cosentini has designed state-of-the-art telecommunications infrastructure for projects including Dock 72 at the Brooklyn Navy Yard, which recently achieved Platinum Wired Certification. At Dock 72, Cosentini designed conduit access to the exterior street infrastructure to ensure tenants can easily order service from many different high-speed internet providers in the area; allocated space for a Distributed Antenna System (DAS) to give the building cellular coverage; and dedicated space to Telecom Rooms that are separate from other utilities, backed up by a generator, and are located above the flood plain.
Connectivity infrastructure and in-building technology make Dock 72 one of the most future-focused office developments in Brooklyn right now and the Dock 72's Platinum Wired Certification distinguishes the development by highlighting its best-in-class technological infrastructure and readiness to adapt to future improvements or innovations.
From the most innovative smart building devices, to the core communication channels that today's tenants rely on, like email and video conferencing, IoT and business technology cannot function unless it is supported by reliable, resilient telecommunications and connectivity infrastructure design. The Wired Certification Guidelines provide architects, MEP engineers and developers with the specifications and best-practices to integrate best-in-class connectivity infrastructure at the conception of a project.
Download Wired Certification Guidelines for Commercial Developments and Redevelopments today to learn more about designing future-proof buildings.