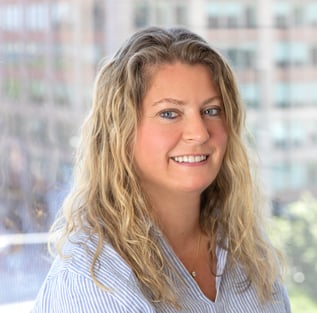 With approximately $38 billion in assets under management and numerous active transactions, it can be tough for Beacon Capital Partners Managing Director Sara Shank to apply anything that spans Beacon's entire portfolio; however, Shank says throughout her experiences, she quickly learned that technology is key in driving value in commercial real estate. As the demand for technology grew, Beacon's early relationship with WiredScore evolved from a way to improve connectivity to being trusted advisors on everything from 5G to new technology.
Below, read more about where Shank thinks commercial real estate technology is headed and how tenants and building owners can prepare for what's next.
WiredScore: Describe your role as Managing Director at Beacon Capital Partners.
Sara Shank: I am responsible for portfolio management including portfolio strategy, portfolio technology initiatives, tenant analysis, quarterly reforecasts, the intern program and market research. Perhaps the experience that best prepared me for this role was my history of overseeing many aspects of acquisitions and dispositions at Beacon involving several billion dollars of transactions. You learn quickly what drives value in the portfolio, and today, technology is a key component.
Such cross-functional experience is helpful in determining if a particular platform or approach makes good business sense. It helps me identify and evaluate technology solutions and to build a business case for adoption of new technology. We then implement piloting programs and spearhead adoption across functionalities. This intense focus on new technology doesn't exist at most other firms, which really demonstrates Beacon's commitment to offering innovative, leading technology to enhance the properties in our portfolio.
WiredScore: How does Beacon Capital keep up with shifting tenant requirements and preferences around technology in a quickly evolving marketplace?
Sara Shank: We are continually exploring revolutionary technology solutions and platforms to create offices that meet the evolving demands and preferences of our office tenants, their staff and their visitors. For example, we work hard to create a sense of community in our buildings, tied to the need for collaboration and a work-live-play environment. Tenants today also want workplaces like ours that provide market-leading amenities, are sustainable, and run efficiently.
Our exploration and engagement with vendors and service providers who share our vision keeps us at the forefront of commercial real estate offerings to attract and retain tenants, communicate with tenants and third parties, improve sustainability, reduce operating costs, and operate more efficiently.
Partners like WiredScore have improved how we look at Telco and how we provide tenants with enhanced connectivity. We continue to look at new technologies that can enhance how tenants work.
WiredScore: In your opinion, what are the most pressing tech trends in the office market? And how have you been adapting your strategy to stay ahead of them?
Sara Shank: I think 5G will be a big adjustment for the office market. The new speeds and greatly increased ability for data transmission has the potential to change how companies do business and office buildings need to be ready to implement the new technology. We are actively engaging with different groups around 5G developments to make sure our buildings are ready when that type of tech can be deployed.
Also, tenant engagement apps that facilitate easier communications with tenants and help foster communities within our buildings are definitely on our radar. Beacon regularly implements pilot programs to test and evaluate new technology to see if it fits with our overall strategy and makes good business sense for Beacon and our tenants to adopt.
I believe that the problems around collection and utilization of data that exist within buildings and the real estate community at large are starting to be addressed. Collecting, analyzing, and learning from the data is a huge task, but will greatly improve efficiencies and decision-making. While there is still a lot of progress to be made, we are moving in the right direction. At Beacon, we are closely monitoring and evaluating these technologies as they are developed.
WiredScore: Beacon Capital has been working with WiredScore on a national-level since 2014, what problems were you originally trying to solve with Wired Certification? Has your work with WiredScore evolved over time?
Sara Shank: Beacon Capital Partners was the first company to establish a national platform with WiredScore, working with the organization across our portfolio. Initially, we wanted to improve connectivity in our buildings. The relationship has evolved as it has become more integrated with the portfolio. We consult with WiredScore on new technology, including 5G. WiredScore evaluates every property we acquire and works with us to develop the right solution for each building to enhance connectivity. WiredScore ensures we have multiple entrance points for fiber in our buildings, access to multiple carriers, and the best equipment available.
WiredScore: There's a lot of talk of CRE adopting a more tech-forward approach when it comes to tenant services and amenities. How are these changing priorities manifesting in your business?
Sara Shank: We strive to develop close relationships with our tenants across the portfolio. CRE has evolved from formal landlord-tenant roles to more of a congenial, connected community, and technology is helping to facilitate this transformation. Technology is shaping the relationship between building owners and tenants by providing direct contact and improved service, enhanced levels of tenant amenities, and more curated tenant activities and events.
WiredScore: You manage a national portfolio of buildings across the US, are there any markets you believe to be ahead of the curve when it comes to delivering tech-forward spaces?
Sara Shank: Beacon's portfolio currently includes properties in ten of the largest markets in US. They are all very competitive office markets, so offering the latest technology solutions helps our buildings stand out and attract market-leading tenants. One area where we've been successful is in attracting tenants to older, often historic landmark buildings where we've transformed the office experience, as well as addressed the outdated infrastructure. By deploying new technology, we can bring them up to date to appeal to innovative tenants. The Central Standard Building in Chicago, built in 1924, is a great example. Beacon recently completed capital improvements, which included creating an uninterrupted digital experience throughout one million square feet of Class A office space. We are proud to have recently earned WiredScore Certified Platinum status at this asset.
WiredScore: What have you been able to achieve through your engagement with WiredScore?
Sara Shank: WiredScore essentially serves as our Telco expert. We appreciate their knowledge and experience and rely on them to consult on telecom improvements for all our buildings. Through WiredScore we can offer the best possible connectivity and choice of providers. Today, every tenant places a high demand on connectivity, and our work with WiredScore enables Beacon to surpass our tenants' needs. It's another way for us to build strong relationships with tenants and enhance the tenant experience.