For many businesses today, access to fiber connectivity has become a prerequisite when considering new office space, or evaluating whether current facilities are serving their business needs. Not only does fiber offer the fastest connectivity in the market, with max available upload/download speeds of 40Gbps, it provides the most reliable and resilient connection available to today's consumers.
In recent years, high-speed "Gig" or gigabit internet service has been marketed as an amenity to office tenants with high-bandwidth needs. But there is another fiber-based amenity that can make your building more appealing to companies with sophisticated telecom requirements: dark fiber.
So what exactly is 'dark fiber'?
When data is transported over optical fiber networks, light waves travel through the cables that connect your office router to telecom carrier hotels. If no data is being transferred over the fiber, it is considered 'dark' or unlit. While the term can apply to unlit cabling itself, dark fiber can also describe broader networks of purpose built unlit fiber infrastructure configured to be leased by tenants for their own use. This can be configured in simple point-to-point deployments e.g. an office connected directly to a datacenter, and ring topologies connecting multiple locations, e.g. multiple offices connected directly and diversely. Customers can create their own privately-operated networks by leasing 'dark' fiber optic cables rather than leasing bandwidth on a shared network from a traditional ISP.
What is the use case?
Security
Dark fiber allows companies to directly connect to their other offices and data centers for direct access to their servers and systems. The traditional use case has been for security, dark fiber connections give a business the ability to securely transfer data across their network without touching the public internet where the majority of data breaches take root. Data security is obviously a growing concern for a lot of tenants, so dark fiber is becoming more commonly used as a sophisticated means of creating a secure network.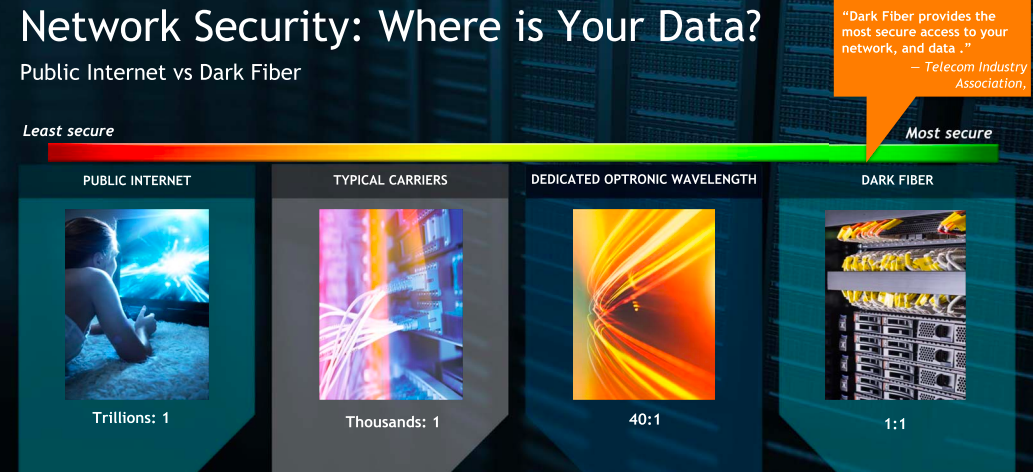 Image courtesy of Zayo Group
Better Scalability
Year over year, cloud computing is exploding as more tenants make the shift to an outsourced cloud model. In 2017, AWS's revenue eclipsed 17.5 bn, a 43% increase from the previous year, emphasizing this shift for all organizations to the cloud. For businesses, the key advantage to this architecture is scale, it gives them the ability to ramp up and down resources when and where they are needed. This can place a lot of burden on traditional internet connections that are paid for on a monthly basis at a fixed speed. Businesses that lease dark fiber and opt to provision their own networks, are able to scale their connections as needed without needing to wait for an ISP to do so for them. They can "burst" their speeds as needed during peak usage periods and not need to worry about additional costs. Tenants are now establishing dark fiber connections directly to an AWS data center to give them the control they need to operate a scalable network in real time.
More Control
Control over scaling speeds is one aspect of dark fiber that is important for many tenants, but control over maintenance windows is something that is especially important to e-commerce or financial services firms. With typical lit internet services, you are bound to the service providers schedule. This can pose a problem for businesses that need "always on" round the clock connections. Maintenance windows for service providers are often required to repair outages on a portion of the network or for routine upgrades. There isn't a lot a business can do about this, so leasing dark fiber can be a great way to gain greater control over the downtime on your network.
Why not?
It's important to realize that there are benefits of using lit services and that using dark fiber isn't as easy as plugging your office router into a dark fiber connection. Many businesses do not have the on staff networking expertise to provision or manage their own networks using dark fiber. The decision of whether or not to use dark fiber should be made based on an evaluation of a number of factors including cost benefit, operational needs, and long term company needs. It requires a strong network team that is capable of repairing the network when things break and knows how to make the infrastructure work for their organization. However, for a company that needs dark fiber for their network set-up, having it readily available in a building makes an office move much easier.
What's next?
For developments or offices that are tailoring their space for financial service, e-commerce companies, or life sciences firms, dark fiber is a key consideration. It can be used as a point of differentiation to make your space more attractive, and as IT teams become more involved in leasing decisions, it is definitely a feature to highlight. Not all providers will offer dark fiber as a service offering, so when in discussion with ISPs, make sure to ask if it would be an option for tenants.
This allows dark fiber users to lease the specific number of fibers they need on a monthly basis which offers businesses flexibility to scale up as their technology needs evolve while providing "unlimited bandwidth" and low latency. Office developments looking to attract tenants with sophisticated technology needs or privacy concerns including government offices, e-commerce companies, or financial services firms, should consider dark fiber as a marketable building amenity.
Because dark fiber is customizable depending on need, businesses can develop a long-term strategy for performance development in access networks as customer needs change. For example, as the wireless spectrum evolves from 4G and LTE to 5G, it will be easy to move subscribers to a more efficient wireless network utilizing dark fiber infrastructure.
From cloud and edge computing, to the Internet of Things (IoT) and intelligent building applications, new technology is eating up bandwidth and increasing the connectivity needs for corporate and enterprise customers. This demand for connectivity, coupled with increasingly stringent cyber security requirements, are factors driving a growing number of organizations to investigate dark fiber as an alternative to commercial Internet service. If your building already has dark fiber, make sure current and prospective tenants are aware of the offering. If not, you can proactively secure pricing information for future tenants who may be interested in dark fiber service.
---
Read more: Power up workplace productivity with AI, VR, and AR
---

Kevin Gerson is Director of Real Estate at Zayo Group and a member of the WiredScore Connectivity Advisory Committee. An industry expert and leading executive, Kevin has nearly two decades of experience in developing and operating new fiber optic, bulk communications transport and technology businesses.