50+60 Binney Street at the Alexandria Center® at Kendall Square in Cambridge, MA offers 530,000 square feet of premium, customizable office and laboratory space. This recently completed commercial development has achieved a Wired Certified Platinum rating, demonstrating Alexandria's commitment to providing its tenants with the internet connectivity features that are vital for any thriving business.

In recent years, Alexandria has seen increased tenant interest in the connectivity of their office environments, prompting the company to pursue Wired Certification across multiple development projects. "Five to 10 years ago, connectivity was an afterthought for many of our tenants. Now that cloud-based technology, off-site storage, and redundancy have become ingrained in business operations, tenants are asking questions about connectivity and technology support much earlier in the leasing process," reflected Andy Reinach, SVP of Real Estate Development & Construction at Alexandria.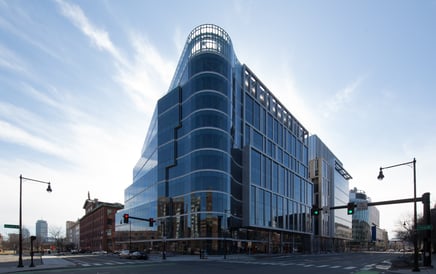 Key connectivity features at 50+60 Binney Street include:
Seamless access to multiple high-speed internet service providers for tenants
Future-proof capacity for new technology
Emergency power and redundant infrastructure to prevent service disruptions
Dedicated telecom space on all floors
To address this shift in tenant priorities, Alexandria takes steps to integrate connectivity infrastructure as a key feature in all of its current development projects. For landlords and developers looking for advice on how to effectively integrate connectivity infrastructure in an occupied building, during their next ground-up project, or when planning a redevelopment, Wired Certification provides the insight you need to make smart decisions.
Tenants of 50+60 Binney Street can be confident in the building's capacity to keep pace with, and readily support, the connectivity needs of businesses for years to come.
Read the full case study on 50+60 Binney Street here.