WiredScore connected with Larry Harris, Vice President and Director of Property Management at HALL Group, to talk about how the business of leasing and management is changing, and what HALL is doing to continually exceed tenant expectations.
Interview highlights:
Employees, not CEOs are dictating office preferences
TI-allowances are becoming competitive differentiators
Tenants expect ubiquitous wifi in live, work, play environments
Keep reading to learn how HALL thrives in a changing and competitive market.
What does your day-to-day look like as Vice President and Director of Property Management?
I oversee all real estate-management needs. The secret is hiring people smarter than myself to help run the operations. I usually try to have a to-do list the night before for the following day, but after more than 35 years in property management, I've found that I don't often get to stick to it: I put out a lot of fires. There's never a dull day in property management, and I really enjoy the interaction with people.
You've been a part of the team at HALL Group since the 80s. How has the role of the Property Manager evolved?
Technology has changed things tremendously. Faxes are now scanned documents, phones are mobile, and everyone wants information quickly. There used to be a lot more personal interaction, but now it's all digital. Dealing with different generations can be challenging at times, not only for employees, but tenants as well. Once you start catering to one generation, a new one comes along with different concerns. But it's interesting and keeps you on your toes. We are partnering with WiredScore to keep us abreast of how in-building technology is evolving and plan on using Wired Certification in all of our marketing materials in conjunction with leasing. We want prospective tenants to know that we operate a digitally enabled campus with cutting-edge technology that is adaptable to their ever-changing requirements.
Can you describe HALL Park and the office tenants at the property?
HALL Park has office buildings and some retail, but it looks more like a park. It sits on 162 acres and has about 200 pieces of art, lakes, fountains, wildlife, jogging trails, a bike-share facility, two gyms that offer classes, a wine lounge, multiple conference venues, and a whole lot of green space. It encompasses 17 buildings with 2.5MM sf of office space. We have a diversified mix of tenants, including law, engineering, tech, real estate and insurance firms, as well as non-profits and co-working.
Tenant expectations of office buildings are changing. What are the most significant transformations you've observed in recent years and how do you keep up?
It's all about the employees now, not the CEOs. Human resources leads the way on leasing. Firms like WiredScore keep us on top of our tenants' technology needs, such as ubiquitous wifi, and we constantly change our amenity programming. HALL has one employee that does nothing but amenity programing, tenant events and relations. This initiative is so important that we are growing the team.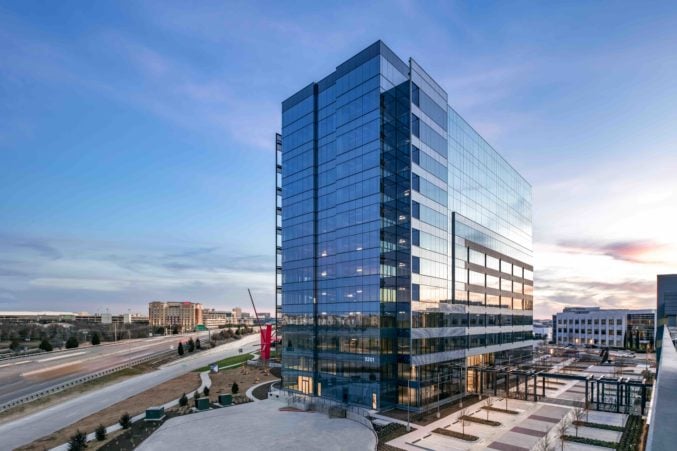 3201 Dallas Parkway, a new office development at HALL Park.
In your opinion, what are the most pressing trends in the office market, and how do you stay ahead of them?
Keeping up with technology, amenities, construction costs and tenant improvements (TI) are key considerations today. The TI-allowance marketplace is becoming very competitive. We have one owner, so we can make speedy decisions and react quickly to what tenants want. Amidst all the other development across North Texas and Frisco, our art installations and the park-like environment set us apart from other master-planned campuses. HALL Park's tenant-centric philosophy, putting their needs first, also gives us an edge.
HALL Group has a reputation for operational excellence. What do you think are the most important things a company needs to focus on in order to maintain that reputation?
We have always focused on tenant relations, service and responsiveness. Our expansion plans are extremely important to the park's future and should keep us very relevant for many years to come as a live, work and play environment.