In an increasingly tech-driven economy, connectivity is fast becoming the most critical utility for tenants when selecting office space. But how can prospective occupiers and tenant rep brokers identify which buildings provide the level of service and reliability that they require? Ask whether the property has multiple ISPs servicing the building, back-up options to prevent inconvenient outages, or riser capacity to accommodate future technology.

Want to simplify the process? Start your search at Wired Certified office buildings.

For landlords and developers, having Wired Certified buildings in your commercial portfolio informs the market you are engaged with tenant's needs and confirms your commitment to providing best-in-class services to occupants. By distinguishing buildings with infrastructure prepared to meet the needs of tech-reliant tenants, Wired Certification makes information about internet connectivity more transparent than ever before, enabling commercial buildings to benchmark themselves against a single standard and enabling business tenants to identify the best buildings for their offices.

Check out our list of 5 CRE landlords and developers embracing Wired Certification in the Greater Boston Area to improve tenant experience by providing best-in-class connectivity infrastructure.

1. Alexandria Real Estate Equities Inc.
The Alexandria Center at Kendall Square (ACKS) in Cambridge, MA offers 541,000 sq ft of premium, customizable office and laboratory space. Two office buildings at ACKS, 50+60 Binney Street and 100 Binney Street, are Wired Certified Platinum. This achievement demonstrates Alexandria's commitment to providing tenants with the internet connectivity features that are vital for any thriving business.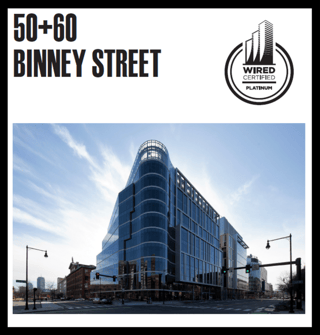 Alexandria has redefined the role a landlord plays by considering every tenant as a partner, where Alexandria plays a key role in the success of businesses by providing the infrastructure, services, and amenities they require to thrive. Achieving Platinum Wired Certification demonstrates a proactive approach to improving operational efficiency and tenant expirience.
Read about how Alexandria implemented Wired Certification to provide tenants with the internet connectivity features that are vital for any thriving business in our 50+60 Binney Street Case Study.
2. The Bulfinch Companies
Bulfinch has received Wired Certified Gold designations at six of its commercial properties for advanced technological infrastructure in the Greater Boston Area. Evaluated on their superior connectivity, technological infrastructure and readiness to adopt emerging technologies, four of the six properties establish the first Wired Certified buildings in Needham and Newton, MA.
"Bulfinch is proud to deliver technologically advanced space throughout its portfolio. The Wired Certification seal signifies our understanding that connectivity is an essential in today's workplace and a demand of today's tenants." said Eric Schlager, CEO of Bulfinch.
3. National Development
National Development has recently achieved Wired Certification for over 3M sq ft of commercial real estate in Boston. The 34 Wired Certified buildings – located in Boston, Bedford, Burlington, Charlestown, Foxborough, Framingham, Medford, Woburn, Westborough, and Westwood – are among the region's most desirable office spaces, including The District Burlington, Unicorn Park, and Constitution Center.

"Connectivity is vital to our tenant's success and we consistently field questions about the services our buildings can provide. Before getting our buildings Wired Certified, those questions really bogged down the process. Now that we have Wired Certified over 30 buildings, we have expert insight into our building's connectivity that we can provide to prospective tenants; this saves us time and allows National Development to focus on providing the best tenant experience possible." - Leah Harsfield, VP of Asset Management at National Development.
Read more about National Development's commitment to Wired Certification
4. Jamestown
Jamestown was an early adopter of Wired Certification in Boston pursuing Wired Certification for the Innovation and Design Building in Boston's rapidly developing Seaport and two buildings in Cambridge near the MIT campus: 25 and 245 First Street. The Innovation and Design Building achieved Platinum Wired Certification, ensuring that the building has the necessary connectivity infrastructure in place to meet the needs of tech occupiers like AutoDesk.
"Our tenants benefit immensely from our high-quality tech infrastructure" - Michael Phillips, President, Jamestown
5. TH Realty
TH Realty has achieved 11 Wired Certifications for office buildings across the City of Boston. The BNY Mellon Center at One Boston Place has achieved Platinum Wired Certification, meeting the highest standards of internet connectivity for commercial properties. Offering tenant's access to multiple high-quality internet service providers, free common area WiFi, and redundant elements of infrastructure to prevent service disruptions, One Boston Place's tenants can have confidence that the property will meet their current and future connectivity needs.

In addition to the One Boston Place's Platinum Wired Certification the building is also LEED Certified Gold and Energy Start Certified, further showcasing that TH Realty is in touch with the needs of today's tenants and has embraced an occupier-led model for building management.
---
Whether you are in the planning stages of a commercial development or managing a fully-leased office building, Wired Certification helps landlords and developers identify marketable connectivity features to promote best-in-class building connectivity. Want to learn more? Contact WiredScore today.