With connectivity rising to the top of tenant priorities, it's important to let current and prospective tenants know that you've invested in delivering a best-in-class connectivity experience for their business. Wired Certification is a simple way to communicate the investment you've made into this critical area of tenant experience and differentiate your property in a competitive market.
Throughout the certification process, our team advised you on key improvements your team could make to ensure your property is truly best-in-class, but the service doesn't end once you've finalized your Wired Certification.
Don't forget, if you need help fielding building technology questions from your tenants, our team of experts are at your service for no extra charge. Contact us at anytime.
Here are 3 easy steps your team can take to make sure tenants are aware of your achievement:
1. Spread the word - It's important to let your current tenants know that you are investing in the digital health of their workspace.

Here are some ways our partners have shared their Wired Certification achievement:

Updating tenants in a monthly newsletter or dedicated update
Promoting Wired Certification on Instagram or Twitter
Issuing a press release or e-blast to inform the market
Hosting a tenant breakfast to share what sets their building apart
Video courtesy of Ivanhoé Cambridge : Fully Connected Office Spaces

2. Show off your official seal - The Wired Certification seal promotes your property's best in class status. Not sure how to use it? Add the seal alongside LEED, EnergyStar, and WELL accreditations on your website and print materials to get maximum exposure.

While you're at it, contact your dedicated Client Success Manager to take advantage of your $200 discount on WiredScore plaques and vinyls at GreenPlaque.com. We offer designs that match the existing plaques and signage in your lobby.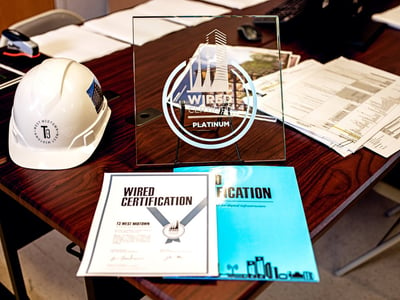 Photo courtesy of The New York Times: When Office Buildings Go Beyond Green

3. Share your building's fact sheet - Your building now has a custom Wired Certification fact sheet: it's an easy-to-understand resource for tenants that highlights key features of your property.

Many leasing teams use their fact sheets on tours as a proactive step that answers important connectivity questions and differentiates their properties. The fact sheet is helpful resource for current tenants too: share it with them so they have information at their fingertips if they are looking for a new ISP or to secure a back-up connection.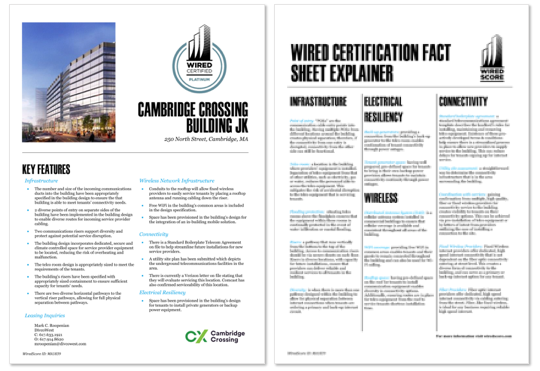 ---
Have questions on how to make the most of your Wired Certification or need promotional assets?
Your dedicated Client Success Manager has you covered. Reach out and schedule a time to connect.