Since the beginning of the year, the world has been facing one of the worst health and economic crises of the modern world. With most cities having faced some form of lockdown, and now Victoria imposing restrictions, the way we live and work has changed and made us question our country's health and digital infrastructures.
This situation has raised a new essential question: Is our digital infrastructure good enough to support our daily lives in this new normal? It is a frequently asked question at WiredScore where we aim to prevent digital gaps and to improve the world's digital infrastructure.
Like every other country, Australia was forced to implement a country-wide 'work from home' strategy to keep citizens safe and limit the impact on the economy. This new way of working deeply relies on good digital connectivity, which may seem obvious, yet most of us encounter connectivity issues on a regular basis. To help us all stay connected, our experts at WiredScore put together 5 tips to improve your internet when working from home.
High-quality digital infrastructure, an economic necessity
Working from home has highlighted the fact that digital infrastructure is an economic necessity. Whether we move to working from home permanently, like we have seen Optus, Facebook and Twitter embracing, or go back to the office, good digital infrastructure will be the founding stone of the economic rebound.
Research conducted in 2019 by IPSOS showed Australians are dissatisfied by the country's digital infrastructure, including broadband and mobile phone networks. They ranked Australia the third lowest of 28 countries when it comes to satisfaction with digital infrastructure.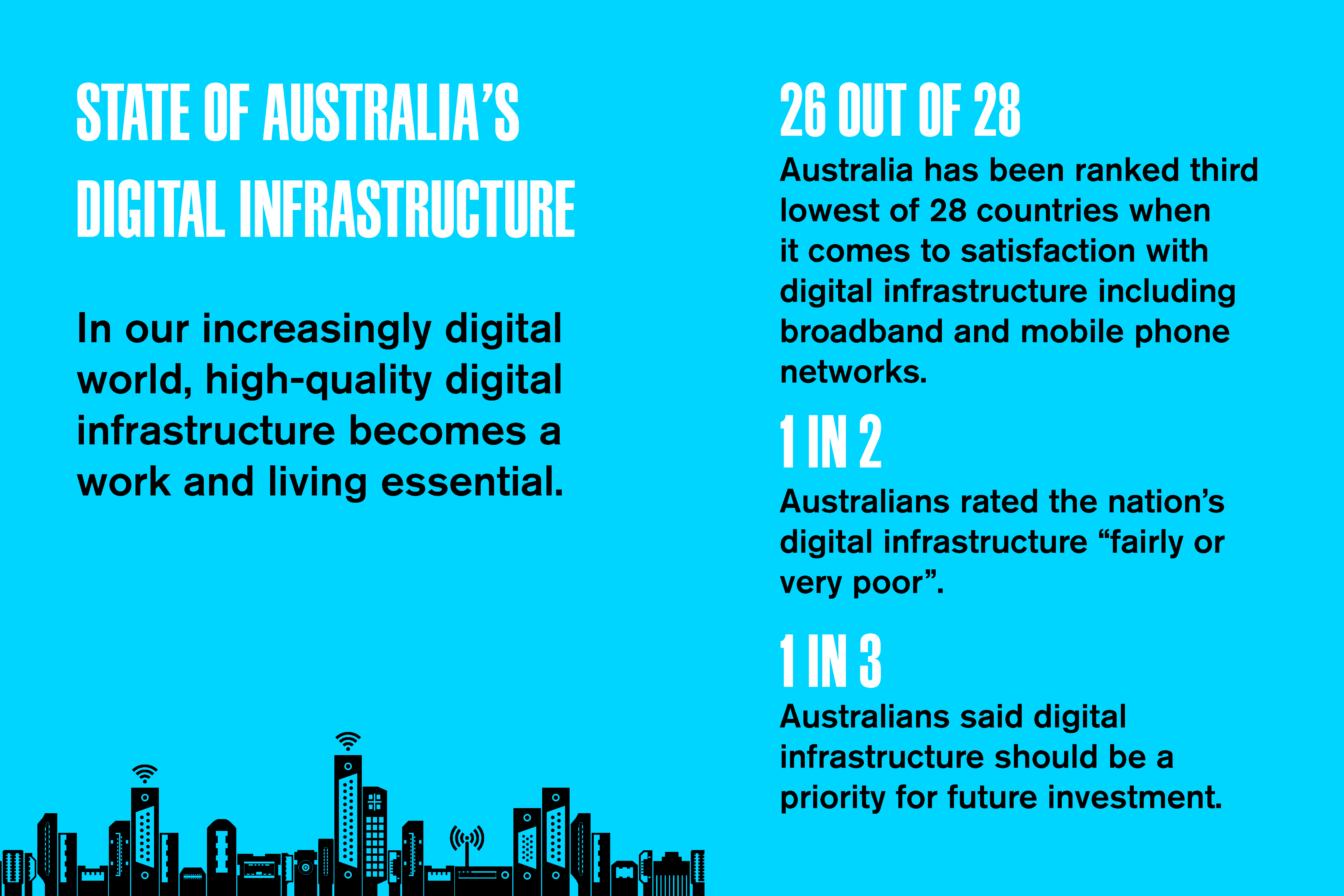 IPSOS social researcher Daniel Evans said the results showed that Australians recognise high-quality digital infrastructure as an economic necessity. "As we transition to an economic structure that is more reliant on knowledge and services, our dependence on globally competitive digital infrastructure is only going to increase," he said. "The demand for high-quality digital infrastructure that will provide citizens, industry, and employers with choice as to when and how they operate, is going to become more important as we transition to the new decade."
More than one-third of Australians (36%) said digital infrastructure should be a priority for future investment, which was equal second highest (with rail infrastructure) behind solar energy infrastructure (44%).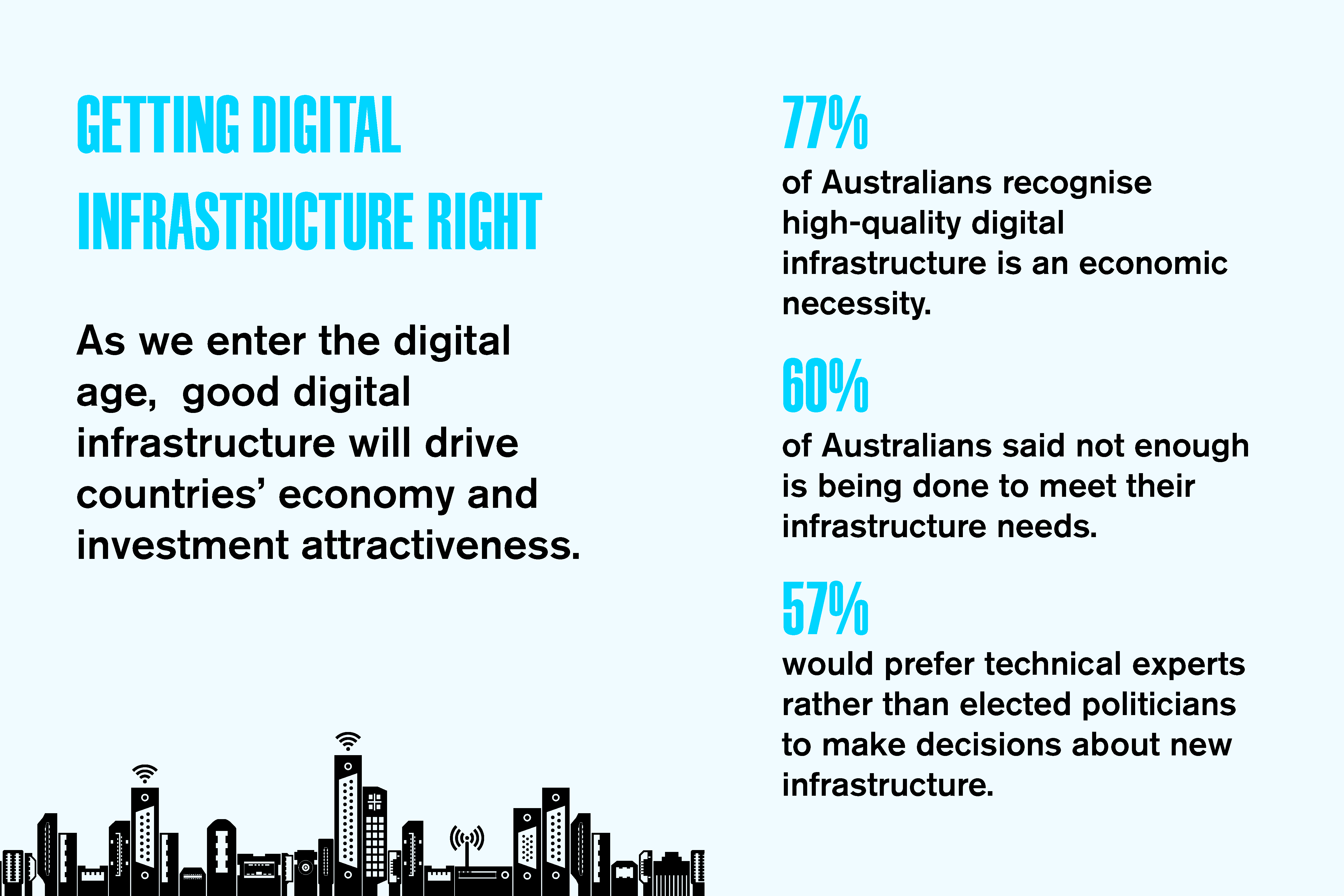 The IPSOS survey showed one in two Australian respondents (49%) think the country had a "poor record at getting national infrastructure projects right" while 60% said not enough is being done to meet their infrastructure needs.
Finally, a majority of Australians (57%) would prefer technical experts rather than elected politicians (17%) to make decisions about new infrastructure.
So, how can Australia improve its digital infrastructure?
What can be done quickly to improve the Australian digital infrastructure?
The latest version of the Property Council of Australia's (PCA) Guidelines shows the property industry's commitment to delivering commercial buildings that meet our evolving technology needs. However, landlords are still asking for greater input and guidance beyond what the PCA has issued. In too many cases, connectivity falls through the gaps, sitting somewhere within engineering responsibilities, with no real ownership. Instead, all developments should assign team members with a dedicated focus on digital connectivity. Connectivity goes beyond mobile coverage, the presence of public wi-fi and the number of risers - it is a complicated area which requires clear and regular guidance updates to ensure our buildings keep up with tenant expectations.
What do we need to focus on?
A major challenge on the horizon is 5G and the difficulties associated with providing ubiquitous coverage in and around buildings.
Closer collaboration between the real estate industry, local government and the mobile carriers should be a focus if we are to unlock the economic and social benefits that 5G will bring. A successful deployment of macro-cells and in-building technologies to deliver seamless coverage will require these groups to collaborate and compromise in new ways, in the knowledge the outcome will justify the means. The alternative, siloed, approach to planning and deployment, will lead to an expensive and sub-optimal experience for consumers and enterprise users alike.
What are the blockers?
The industry's approach to delivering digital connectivity, if not done correctly, could be its own downfall. Connectivity and technology planning should be viewed through a customer-centric lens. Our buildings are made from bricks and mortar, but their true value is recognised in how they are used by people. Developing and implementing technology for technology's sake may make a building look shiny from the outside, but when you scratch under the surface, you will realise that they are not delivering true value to the users of the building.
To ensure technology investment is delivering a positive ROI, we should always be asking ourselves the simple question: "How does this improve user experience?". The investments that keep this concept front of mind will deliver significant and continued benefits into the future.
None of us hold a crystal ball, and whilst we can anticipate user demands from technology and connectivity in five and ten years time, the outcome will likely vary from this prediction somewhat. To accommodate this, we should be developing agile plans that are modular in nature and can be amended and adapted as user demands evolve. Providing adequate fibre infrastructure beneath our streets, for example, will allow us to deploy not just 5G, but the mobile generations beyond that as well.
There are a number of new connectivity technologies that will impact how tenants work, and the industry needs to recognise that tenants will use not just one, but a combination of them. It is a well known saying that humans tend to overestimate the effect of a technology in the short run and underestimate the effect in the long run - creating a reliable, technology agnostic infrastructure will allow us to adapt and meet the needs of whatever tenants require.
#ConnectivityMatters